SWAG STORE
Limited Edition items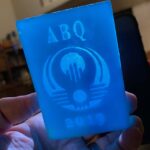 There will be some limited edition items only available at the anomaly swag tables.
Order Deadlines
The order deadline of Feb 3rd has passed. We have ordered a few extra t-shirts and hoodies, but they are available in limited colors and sizes. If you are planning to attend the anomaly, select local pick up for your orders. There will be a few different pick-up times available throughout the Anomaly weekend. And you save on shipping! If you want to order and wear your shirt at the anomaly, you must do local pickup. Most items are limited stock. Order early to make sure you get what you want! If demand is high, we may re-run some items, but there are no guarantees. Your receipt is required for pick-up to ensure accuracy. ***Disclosure: Color and style may slightly differ from photos***
Shipping information:
If you are ordering and having things shipped to you please note that orders will be shipped 2-4 weeks AFTER the Anomaly. U.S. & International shipping is available. Shipping fees will calculate at checkout.